Archives
Great Basin Water Network
The Pipeline
Southern Nevada Water Authority
Groundwater Development Project

Site Map
---
Great Basin Water Issues
Water Grabs Threaten the Future of Rural Communities and Wildlife
Throughout the Great Basin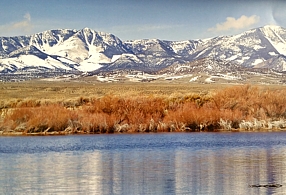 Because the Great Basin is a desert, WATER IS LIFE. Nevada is the most arid state in the nation. Water management, for better or worse, is part of the Great Basin's heritage. Indian names for towns Tonopah, Pahrump, Pahranagut, and Ivanpah denote the presence of water. An early, innovative water project siphoned water from Marlette Lake in the Sierra Nevada to Virginia City to support the mining boom. Nevada is also bound by the Colorado River Compact, forged in the 1920's to allocate the flow of the river among seven states. Based on factors at that time, including population, just four percent is earmarked for Nevada today.

But times have changed. The proposal by Southern Nevada Water Authority (SNWA) to build a 300 mile, 84" diameter pipeline to drain "unappropriated" water from east central Nevada and the west desert of Utah is unprecedented in ambition and scope; if implemented, the proposal will cause disastrous impacts to the human and natural environment.



The impacts of the Las Vegas Water Grab are known well, and documented by the federal Bureau of Land Management (BLM), custodian of most public lands in the west. Sixteen pages of "irreversible and irretrievable" resources from adverse impacts are listed in BLM's Final EIS. (See Chapter 4, Page 4-1 through 4-18) The unprecedented size and boldness of the project is enabled by the fact that more than 80 percent of Nevada is public land. Rural communities are surrounded by public lands that are used for grazing, wildlife, recreation, mining, energy development and community watersheds.

Rural people and Tribes, who make a living from the land and the water, know that water does not exist in quantities to support the proposed exportation project. They know that rural water is already over-appropriated and cannot be pumped by SNWA without damaging senior water rights and harming the environment on which all Nevadans depend, whether for their livelihoods, for recreation, or because they value wildlife and endangered species. They question whether the project is viable or affordable, given their understanding of the limited water in the high deserts of the project's target area. Is a $15 billion project to tap an uncertain and finite source of water really financially feasible for southern Nevada ratepayers?

Rural residents try to live daily within the delicate ecological balance that keeps plants and animals alive and rangelands healthy, that ensures stream flow, and that sustains agriculture, tourism, business, and communities. Concerned urban residents understand that water conservation is essential along with control of growth and sprawl in order to live sustainably. Bottom line: the water grab will be a disaster for urban, suburban and rural dwellers, for Nevada and for Utah, and it is a fiscal folly.

GBWN supports sustainable local water use. We reject water speculation, and question public policies that enable water to be extracted to the detriment of local communities. Through a combination of grassroots outreach, legal action, and true grit, GBWN and its allies have fended off the Las Vegas Water Grab so far. "Inevitable" is not in our working vocabulary. We support water conservation. Water is precious, it must be used wisely!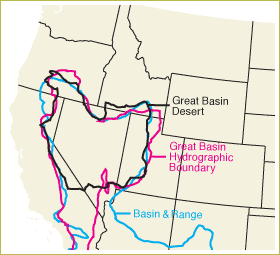 The Great Basin, stretching from Utah's Great Salt Lake to the Sierra Nevada Mountains and from southern Idaho to southern California, is an arid land. Average rainfall in Nevada, the heart of the Great Basin, is a mere 7 inches per year with some areas averaging less than 5 inches per year. Much of western Utah and eastern California matches that dryness in their own portions of the Great Basin. Dry is a natural condition in the Great Basin, but it's been even drier in eastern Nevada and western Utah where a drying trend has been going on for more than a decade. See the U.S. Drought Monitor for current drought conditions.

The limited water throughout the Great Basin has produced century-old, small and hardy agricultural communities where production of bountiful crops and livestock depends on shallow groundwater, large regional springs, and small creeks. Each of these sources of water depends on healthy groundwater flows supported by precipitation in mountain ranges which receive more moisture than the valleys. Water is critical to the Great Basin's plants and animals including unique species found only in regional springs —springs which are directly threatened by pumping of groundwater.
Understanding Environmental Issues related to the Southern Nevada Water Authority's
Proposed Groundwater Development Project
March 2008

The Proposed Groundwater Development Project's pipelines would stretch 300 miles through 6 valleys in eastern Nevada's Great Basin Desert.

---

Groundwater pumping would fill the pipelines for delivery to the Las Vegas Metropolitan area (Las Vegas, N. Las Vegas, Henderson, Clark County area) over 250 miles away from the most northern pumping locations.

---

Great Basin National Park is flanked by Spring Valley on its west and Snake Valley on its east. Studies by the USGS showed that proposed groundwater pumping in Spring and Snake Valleys will impact both ground and surface water in and adjacent to the National Park.

---

Groundwater in Snake Valley flows toward the Great Salt Lake Desert and supports agricultural communities in both Nevada and Utah. Existing ranches and farms in the Spring and Snake Valleys depend on the high groundwater table to support meadows as well as surface streams and springs used for irrigation.

---

Groundwater in Spring Valley supports many springs including Shoshone ponds, home to threatened and endangered pupfish. Groundwater also supports a unique forest of Rocky Mountain Juniper, also known as Swamp Cedars. in the Valley bottoms.

---

Groundwater from the other Valleys - Cave, Dry Lake, and Delamar - supports the "White River Groundwater Flow System" which is associated with several large well-known regional springs. These include Sunnyside, Hiko, Crystal, Ash, as well as numerous wetlands, meadows, seeps, and smaller springs. Wildlife and ranching throughout the White River Valley depend upon springs.

---

Wildlife management areas at Sunnyside and Hiko and a National Wildlife Refuge at Pahranagat depend on the flows from the regional springs.

---

Further south in the flow system the Moapa Warm Springs, home to the Moapa National Wildlife Refuge, forms the source of the Muddy River, a tributary to the Colorado River and flows into Lake Mead.

---

Moapa Warm Springs is home to the endangered Moapa Dace and other threatened species of small fish which have evolved in the warm spring waters.

---

The Las Vegas area has an allocation of water out of the Colorado River of 300,000 acre-feet per year which it takes from Lake Mead. Lake Mead is the reservoir formed by Hoover Dam. The SNWA pumps the water out of Lake Mead for municipal and industrial use within the Valley. It also pumps 50,000 acre-feet per year from wells within Las Vegas Valley. It is buying out farm land along the Virgin and Muddy Rivers and putting those water rights into Lake Mead adding to its total supply. Southern Nevada uses all of Nevada's allocation from the Colorado River.

---

Groundwater pumping in the Las Vegas Valley has lowered the groundwater level by 300 feet and dried up the large springs and meadows that gave Las Vegas — "the meadows" — its name. In 2014, the Las Vegas "metro area" had a population of about 2 million.

---

Owens Valley, California is an existing example for the removal of large amounts of water from rural desert areas and fueling explosive growth in a distant city. The City of Los Angeles at the turn of the 20th century took water from the Owens River in eastern California. The result of the construction of the Los Angeles Aqueduct was that the Owens River dried up, Owens Lake and local agriculture disappeared and the economy suffered.

---