Archives
Great Basin Water Network
The Pipeline
Southern Nevada Water Authority
Groundwater Development Project

Site Map
---
Publications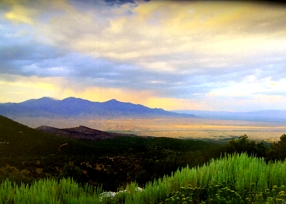 August 30, 2019 — Numerical Model Simulations of Potential Changes in Water Levels and Capture of Natural Discharge From Groundwater Withdrawals in Snake Valley and Adjacent Areas, Utah and Nevada — USGS

June 1, 2019 —

Technical Memorandum Groundwater Management and the Muddy River Springs, Report in Response to Nevada State Engineer Order 1303 — Prepared for: Center for Biological Diversity by hydrologist Dr. Tom Myers

Key Findings
The Division should not allow any pumping of the carbonate aquifer if the continued decrease in spring flow in the MRSA is to be avoided.
The Kane Springs Valley should be managed as a part of the LWRFS.
Some basin-fill pumping could occur without significantly affecting MRSA spring flow, with a preliminary estimate of 4,000 afa as a sustainable yield.
May 2016 — NYFC's new report, Conservation Generation: How Young Farmers And Ranchers Are Essential to Tackling Water Scarcity in the Arid West —National Young Farmers Coalition [Download the Report]
Key Findings
Water, drought, and climate change are the top agricultural concerns of young farmers in the West. Eighty-two percent of survey respondents listed water availability/access as once of their concerns;
Young farmers prioritize water conservation, and the vast majority (94%) are already conserving water;
Building healthy soil is the most common water conservation strategy;
Federal cost-share programs are not reaching young farmers in the West;
Perceptions of "use it or lose it" discourage on-farm conservation.
August 2016 — Statutory Changes Proposed to Legislative Commission Sub-Committee to Study Water [11 Page PDF][11 Page PDF] — ADVOCATES FOR COMMUNITY AND ENVIRONMENT

March 2016 — USGS Report: Limitations of perennial yield concept and principles of groundwater sustainability in Nevada [23 Page PDF]

December 2015 — Nevada Drought Forum: Recommendations Report Presented to Governor Brian Sandoval The Nevada Drought Forum (Forum) was formed by Governor Brian Sandoval in April 2015 through Executive Order 2015-03 to address water resource challenges related to severe and sustained drought conditions that have affected much of the state. The Forum was directed to facilitate a statewide dialogue among interested stakeholders and identify best practices for drought policy, preparedness and management . . . . State of Nevada

September 2015 — Unbundling Water Rights: A Blueprint for Development of Robust Water Allocation Systems in the Western United States — Duke Nicholas Institute

August 2015 — PETITIONER: Pershing County Water Conservation to seeks writ of mandamus to require the State Engineer to establish a critical groundwater management area over all over-appropriated groundwater basins within the Humboldt River Basin, Nevada — 22 Pages



June 15, 2015 — Special Report: Western Governors Association Drought Forum — WGA, 24 Pages



November 2014 — TTROUBLED WATERS: Misleading industry PR and the case for public water The report identifies worldwide deceptive practices used by the water privatization industry — Corporate Accountability International [64 Pages, 6.5MB]



November 2014 — Top 10 Myths about Desalination Despite desalination being an option, there are over two billion people who do not have access to clean drinking water or adequate water for sanitation purposes. Critics of desalination argue that it is not an urgent concern and that the cost is too high. Others suggest that water is becoming the 'new oil' (Kennedy, 2014). This article invites the reader to explore the top ten myths about desalination, a viable option to provide fresh water to populations experiencing extreme drought and/or global warming — By Genevieve D. Minter and Mark Bird



August 2014 — Report to the Public Lands Committee on Listening Sessions — The State Engineer held these listening sessions to provide information on water-related issues in Nevada, proposed bill drafts and most importantly, to listen to the public regarding issues of concern raised by those who attended — State of Nevada [8 Pages]



September 2014 — Corporate Water Disclosure Guidelines: Towards a Common Approach to Report Water IssuesThe UN Global Compact's CEO Water Mandate initiative has released the finalized Corporate Water Disclosure Guidelines – a common approach for companies to effectively and intelligibly disclose the many elements of their corporate water management practice to key stakeholders. The Guidelines are available as a PDF report and web-based tool — pacinst.org

June 2013 — [Southern California] Water: Local / Regional / State / Interstate Issues: By Jim Yannotta, Manager of Aqueduct — LADWP - Los Angeles Department of Water and Power.


Download Slide Show (9 Slides 4.2 Mb)



May 4, 2013 — Shoshone Walk and Run
Walk and Run 2013 for the Western Shoshone against the Water Grab: The Longest Walk from 2000 to 2013. For some of us, the longest walk and run never ends, it's in our blood -- Newe The official Walk and Run will start at dawn on Saturday, May 4th, 2013 and will finish on Mother's Day, Sunday, May 13 or longer if the group decides to continue.


Download flyer (2 Pages 1.2 Mb)



Colorado declared most endangered river in the U.S.. long term solutions, not a bank-breaking pipeline are needed to supply Las Vegas water


Download report (96.8 Kb)



Winter 2012 — Water and public lands: Groundwater mining in Nevada
Over the course of a decade-long drought, the Southern Nevada Water Authority (SNWA) has widely circulated alarming photos of lake Mead's "bathtub ring," showing the striking decline of the reservoir that holds Las Vegas' water supply from the Colorado River. SNWA has aggressively pursued ways to supplement its Colorado River water allocation, and the water authority's manager, Pat Mulroy, is determined that Las Vegas must continue to grow, and that to do so it will need more water. Mulroy is well-known for her cold dismissal of anyone who objects to her plans.


Download report (2 Pages)



December 2010 — U.S. BLM NV Groundwater Projects Update
This BLM Newsletter details the upcoming Draft Environmental Impact Statement (DEIS) for the Southern Nevada Water Authority's proposed massive water export project. The Newsletter describes the alternatives which will be considered in the DEIS and the alternatives rejected for consideration (many of them supported by the hundreds of comments the BLM received on the SNWA project). Essential reading for those opposed to the project to take over 200,000 acre-feet of water each year from the dry valleys of eastern Nevada and western Utah.
Download NewsLetter (8 Pages)



May 06, 2010 — Juab and Millard Counties [Utah]
Lewis Young Robertson & Burningham, Inc. was retained to assess the economic impacts of the Southern Nevada Water Authority's proposal to pump and pipe groundwater from the Snake Valley area to locations in southern Nevada. This analysis identifies the impacts to both Millard and Juab Counties, with impacts specifically identified by each County. BACKGROUND AND APPROACH In 1989, the Las Vegas Valley Water District filed for water applications in the Snake Valley.


Download flyer (36 Pages 1.2 Mb)



January 2010 — "Virtually Impossible" for Groundwater Monitoring to Protect Snake Valley by Dr. John Bredehoeft
The question is: Can one monitor a real groundwater system, with the idea of identifying the explicit impacts of pumping from individual wells or pumping centers, as the Nevada State Engineer implied, and which various Federal agencies bought into? It is virtually impossible. Let me explain why:


Download flyer (3 Pages



2009 — SNWA Water Resource Plan: The Southern Nevada Water Authority (SNWA) has worked diligently to maximize the existing water resources available to the Las Vegas Valley. Since its inception in 1991, SNWA has developed and maintained a comprehensive Water Resource Plan.

Fall 2009 — Breakdown of SNWA spending on outside law firms
This spreadsheet details SNWA spending on outside firms (despite a substantial, well paid in-house legal staff) to support its rural water grab. It is no coincidence many consider the agency more powerful than any other and one that sets its own agenda.


Download paper (2 Pages



March 18, 2009 — Scientists and Doctors Express Concern to Utah and Nevada Governors Huntsman and Gibbons about the Impacts of a Massive Groundwater Mining Project in Utah & Nevada
On March 18, 2009 Governors Jon Huntsman (UT) and Jim Gibbons (NV) received a letter from leading scientists stating: "A comprehensive evaluation of the Southern Nevada Water Project would almost certainly conclude that the project will adversely impact rural livelihoods, substantially lower groundwater aquifers, reduce biodiversity, and will not be sustainable." The 147 scientists and MDs are from 25 states, and Mexico and Germany. A copy of the letter also was sent to local, state, and national law- and policy makers in the two states.


Download Letter (2 Pages



Undated — Dean Baker, Rancher — Snake Valley, Nevada
For the most part all living things in the region, not just humans, are dependent on the Great Basin aquifer and its springs for water. According to Dean Baker, "Virtually any level of irrigation here leaves nearby springs dry . . .


Download Letter (2 Pages



June 21, 2008 — Satiating a booming city: A relentless drought combined with explosive growth in Southern Nevada is exhausting the options for satisfying the needs of 2 million residents — Las Vegas Sun


Download paper (10 Pages



February 2008 — SNWA-Federal Stipulation: Trouble Ahead This presentation outlines the stipulated agreement between the Southern Nevada Water Authority and the Federal Agencies as presented by Kay Brothers, Head of Resources for the SNWA at the State Engineer Hearing for Cave, Delamar, and Dry Lake Valleys on February 4, 2008.


Download Letter (22 Pages



October 2007 —Assessing Protection for Imperiled Species of Nevada, U.S.A.: Are species slipping through the cracks of existing protections? By D. Noah Greenwald and Curtis Bradley.


Download paper (10 Pages



December 2007 — USGS Examines Importance of Water Budgets A new USGS Circular illustrates the importance of water budgets as an essential tool in addressing concerns about water availability in the 21st Century.


Download report (90 Pages



December 2007 — Gambling on the Water Table — The High-Stakes Implications of the Las Vegas Pipeline For Plants, Animals, Places and People. Las Vegas long ago tapped out the limited groundwater available in southern Nevada. Although the city has made signifcant progress in it's effors to conserve water, its explosive growth continues, leading to a search for more water hundreds of miles away in the most remote and undeveloped areas of the state. Under the Clark, Lincoln and White Pine Counties Groundwater Development Project, the Southern Nevada Water Authority proposes to extract hundreds of thousands of acre-feet of groundwater from eastern Nevada and convey it to the greater Las Vegas area through a massive pipeline. This report describes this plan, the natural and human communities it threatens and some alternatives the city should implement before attempting to take any more water from this fragile desert.


Download report (21 Pages



November 2007 — Hidden Oasis: Water Conservation and Efficiency in Las Vegas EXECUTIVE SUMMARY An complete overview of the recommendations from the "Hidden Oasis: Water Conservation and Efficiency in Las Vegas" report in summary form. Easy to read and just a few pages. The full report is also available from the list under the title "Hidden Oasis: Water Conservation and Efficiency in Las Vegas".


Download paper (5 Pages



April 2007 — The Importance of Ground Water to Rivers in the West Many ask, "Why should people who care about healthy rivers also care about ground water management?" Our answer: ground and surface water are connected to each other and as a result, pumping ground water can adversely affect river flows. In too much of the West, new water users start using ground water because river flows are insufficient. Ground water is seen as a new source to solve their water needs, but ground and surface waters are not separate and will rise and fall together. Ultimately, rivers bear the burden.


Download report (24 Pages



December 2006 — Water in the Urban Southwest: An Updated Analysis of Water Use in Albuquerque, Las Vegas Valley, and Tucson This report examines water use in three well-known metropolitan areas in the southwestern United States: Albuquerque, the Las Vegas Valley, and Tucson. Despite the similarities among these communities, the way that water is both used and managed is quite different. All three communities have demand-side management programs that are successfully reducing per-capita water use within their service areas; however, they take a very different approach. While it is important to recognize that all systems are unique, all three also have room for improvement.


Download report (55 Pages



November 2006 — Where Does It Start? Where Will It End? — The Progressive Leadership Alliance of Nevada's (PLAN) report on the Las Vegas and the Groundwater Development Project, provides an overview of the potential plans, costs and impacts of the Southern Nevada Water Authority's proposal to extract groundwater from rural Nevada and Utah and send it over 250 miles to Las Vegas.


Download report (30 Pages



April 2005 — $000 Current Seawater Desalting Costs? [PDF] Can nations now desalinate a million or a billion gallons of seawater at no real cost? Could $000 be the real cost to purify an acre/foot of desalted ocean water? This article answers these questions in the affirmative if the indirect desalting benefits are considered By Mark Bird


Download paper (3 Pages



August 2004 — Energy Down the Drain: The Hidden Costs of California's Water Supply (Pacific Institute) — To save energy, it is important to save water. As California's electricity demand sets record highs and the Southwest is parched by drought, a new report by the Pacific Institute and the NRDC shows the hidden connection between energy and water.


Download paper (85 Pages



July 12, 2004 — Letter to Senator Reid — Re: Lincoln County Conservation, Recreation and Development Act of 2004 — The 3 page letter was sent by the Nevada Ad Hoc Water Network, a coalition of 22 organizations and two dozen citizens



Fall 2000 — Potential Environmental Effects of the Southern Nevada Groundwater Project
By James E. Deacon, Ph.D., Distinguished Emeritus Professor of Environmental Studies and Biology:


Download paper (3 Pages

---