Stopping The West Desert Water Grab
Water officials from the Central Iron County Water Conservancy District want to siphon billions of gallons of water away from rural valleys to feed sprawl development in fast-growing Cedar City.
The project will harm communities like Milford, Beaver and Baker. It will imperil places like Great Basin National Park, Fish Springs National Wildlife Refuge, the Great Salt Lake and sacred tribal sites. The economies, the heritage and the future of rural communities will be forever changed in the Great Basin.
We are working with farmers, ranchers, conservationists, tribes and rural communities to stop this boondoggle. The USGS reported that the project's impact would span 10,000 square miles across the desert, draining Pine and Wah Wah Valleys' aquifers by more than 1,500 feet. The effects will encroach into Nevada and all the way to Salt Lake City. The water underground dates to at least 28,000 years old, according to the USGS. Once its pumped and piped to green lawns in Cedar City, it won't be coming back.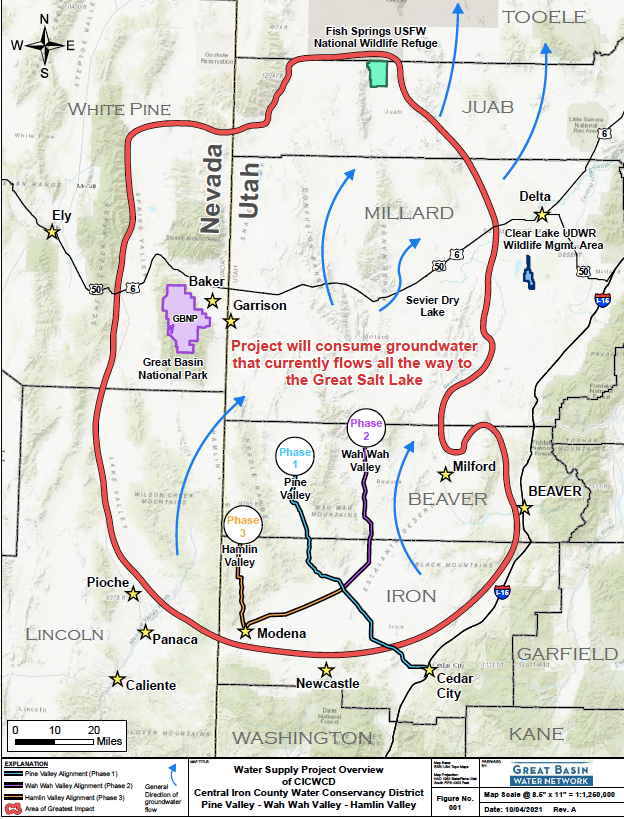 USGS reports show that the project will also impact the Snake Valley and Spring Valley Basins along with three underground flow systems that feed the Great Salt Lake.
Simulating 15,000 and 6,500 acre-ft/yr of proposed withdrawals in Pine and Wah Wah Valleys, respectively, causes large drawdowns near the withdrawal wells within 62 years and ultimately causes water-level declines of more than 1,900 ft near the withdrawals and of more than 5 ft in an area of about 10,500 mi2 (Brooks, 2017).

For the sake of future generations, take action today. We are working with partners in Beaver County to stop this proposal from wreaking havoc in the desert. It is one of the nation's driest regions. The water Cedar City wants doesn't exist. 
LEARN MORE
Read Our Comment to the BLM