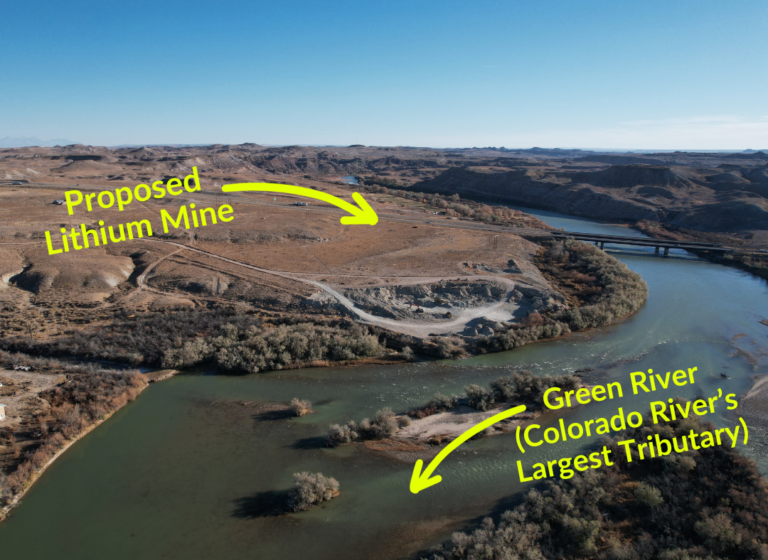 Last Tuesday, weeks after submitting a formal protest, we attended a hearing on Blackstone Minerals' filing for water rights in Green River, UT –– opposing the company's application for groundwater rights near the banks of the largest tributary in the Colorado River System.
Blackstone Minerals, a subsidiary of the Australian company Anson Resources, and other related LLCs are looking to acquire the Green River water rights and others as part of the growing "Paradox Project" — a major lithium extraction and exportation effort seeking rights to 11 billion gallons (30,000 afy) of Colorado River and Colorado River Tributary water each year. Anson's major partner is Sunresin, a Chinese company.
Anson's efforts are a means to appropriate water to foreign companies with local LLCs. But, of course, it takes a village. There are leases for water with Wayne County Water Conservancy District and at least one private company. And, at least one private company with ties to Green River has sold land to Anson entities.
We are working with local farming families who believe that some of those companies selling and leasing land to Anson might have ties to elected officials in the county.
Along with the effort near the town of Green River, there are plans to extract and process lithium – and consume precious water –– near Canyonlands National Park and Capitol Reef National Park. The applications, filed with the Utah Division of Water Rights, are a mix of new, consumptive uses and, alleged, non-consumptive uses. The company plans to use Direct Lithium Extraction (DLE) technology, which will theoretically consume less water. However, this has yet to play out in practice. There are no permitted DLE projects in the United States. As such, DLE technologies still need to be considered speculative.
Here's where things get a little complicated.
Anson and its subsidiaries want to drill up to 10,000 feet deep to extract lithium salt brines at the site in Green River and the site near Canyonlands. In both cases, the wells are quite close to the Green and Colorado Rivers.
For the Green River Project, the company pinky swears and spit shakes that it will not consume water. It says there is no connectivity to the river and no chance that the brines mix with freshwater supplies. Anson/Blackstone says it will just bring the water to the surface, take the lithium, and re-inject the water back into the ground in real time in a closed loop system –– with no losses.
Those promises will have big consequences if broken.
Regulators are in a difficult position. They are being asked by Anson to take their word for it. If regulators were to believe Anson, that would make life much easier for the Australian company. There are specific state policies regarding new consumptive appropriations in the Green River and Colorado River systems in Utah. A consumptive use would require a lot more work –– and money –– on behalf of Anson.
And, again, these non-consumptive uses have never been done at a lithium mine in the U.S. And, I would think most Americans would agree, the Colorado River's largest tributary is not a place for experimentation.
Who is going to blink.
We are not against lithium extraction, but as with all major water projects in the desert and on the Colorado River system, we need to be asking fundamental questions about water availability, impacts to existing rights holders, and potential harms to the public welfare and local communities. That is what the law requires. And the law is what we are here to defend.
Now, we need your help. Because of due process concerns we noted to the Utah State Engineer, regulators are extending the public protest period through mid-December. Please sign our petition to help us demand accountability from regulators and ensure that your voice is part of the record.