Issues of title and ownership aren't the sexiest water issues in an era of aridification. But the competing interests that are wheeling and dealing for scarce water resources amid the hazy halls of government must not be immune to scrutiny. And when millions of dollars are at stake, well, it means a lot more than millions worth of crypto.   
Hence, you can imagine our surprise when we walked into a courthouse this week to get a final order that ultimately denied Blockchains' ownership claims to millions of dollars' worth of water rights in the deserts north of Pyramid Lake.    
Blockchains is a techy-crypto amalgamation that first appeared in Nevada a few years back, promising to shower riches on the state as long as the legislature would give it plenty of tax abatements and incentives. When Daniel Rothberg broke the news two years ago that Blockchains was acquiring groundwater Lake in the San Emidio and Hualapai basins north of Pyramid Lake, GBWN took note.   
But things have not gone smoothly since then.   
In a final order issued in late August, Judge Kathleen Drakulich of Nevada's Second Judicial District upheld the Nevada State Engineer's decision to deny Blockchains' request to update the title of ownership of the water rights to its own name. The judge's decision was the result of a lawsuit by Blockchains alleging that the State Engineer was acting in an arbitrary and capricious manner. Simply put: Blockchains wanted to be recognized as having title in the State Engineer's records after cutting a deal with Sonterra Development in late 2020 to acquire some $35 million worth of groundwater rights.   
In court documents, the State Engineer alleged that –– due to language in the deed of trust –– it could not update the title transfer because a company with a financial stake in the water rights, Granite Investments, had an encumbrance. In other words, Granite had not yet given Sonterra its blessing on the sale of $35 million worth of water to the tech company.  
Judge Drakulich ultimately agreed that until Granite Investments signed off on the transaction, the State Engineer was not in a position to update the title of ownership.   
This is known as an issue of clouded title.   
Just as nebulous are Blockchains long-term plans in a state where they have bought land and at least thought they had acquired water.   
As we mentioned in our last post on this matter, why would Granite not want to recognize Blockchains? What information do they have that we don't? What could possibly make one worry about Blockchains as a steward of water rights?   
Your guess is as good as ours.   
What we can take away from this so far, pending an appeal, is that Blockchains' ownership status is not recognized by the State –– meaning that finance bros and real estate hustlers are still the rightful owners of the water in the eyes of the State of Nevada. Sonterra has been leasing the water to farmers and that appears to remain the case.   
Since the term Blockchains became synonymous in Nevada with crypto bros who wanted to build a tech utopia in regions where no water was available, Great Basin Water Network took a keen interest in following their business dealings because we believe that exporting water from that region will ultimately harm Pyramid Lake and groundwater flow in the region.   
Nevertheless, we were surprised when the issue landed in court more than a year ago. You would think that when a $35 million deal for water is hashed out, the particulars –– like reading a deed of trust –– would be figured out.   
We are happy to see that the State Engineer was issuing proper, justifiable scrutiny, at least in the eyes of the courts.  But if we can bet anything, it's that powerful interests will want to ship that water somewhere else. Maybe a place like the Tahoe Reno Industrial Center –– where there is no available groundwater or surface water to appropriate. Home to Tesla and, wait for it, Blockchains.   
I am afraid this saga is far from over. I'd bet a few crypto coins on that.   
A SHIFT IN THE EARTH'S AXIS, BUT WHAT ABOUT MINDSETS 
We have pumped so much groundwater globally that we've shifted the earth's axis.  
Little tidbits like this pop up in my newsfeeds. The data points are truly seismic in scale. The ultimate question, however: Can we shift how we think about scarce underground resources?   
Groundwater systems across the nation are over-appropriated –– and not just in the arid regions, either. States like Maryland and New York are seeing major declines, too. All over the nation, regulators doled out more permits and contracts than there was wet water.  
There is so much focus on the plants that consume water. But I think it is foolish to blame a plant. We need to blame regulators.  
The demand for alfalfa is the result of our cultural appetites. The advent of groundwater pumping in the first half of the 20th Century spurred a new way of farming in the nation –– growing the abundance we are accustomed to in our grocery stores.  
The desire to see our water supplies remain in balance is a growing cultural desire. To blame alfalfa is to ignore the problem of our over-developed water systems. There are imbalances in systems. The way to bring things back into balance is curtailment.  Farmers can grow what makes them money. But they shouldn't deplete systems –– no entity should. 
GBWN believes that regulators who allow surface and groundwater basins to be over developed, over appropriated and over pumped are the problem. Officials who don't turn off the taps or prevent misappropriation are why crises emerge.  
We can blame plants. Or we can blame the humans in charge of the resource. I am inclined to do the latter. We must use less –– a lot less. That is the reality.  
However, if we are going to fallow fields in the name of aridification we cannot allow regulators to take the savings and put it to use somewhere else. That is repurposing ­­–– not conservation.   
So next time you hear someone say important it is to fallow fields, ask them what they will do with the savings.  
THE NEW YORK TIMES IS ON THE GROUNDWATER BEAT 
As is often the case, when the New York Times does a piece on a big sweeping hyper-local issue with global implications, it feels fresh and new. But the issues highlighted in the piece are things we've known about for a long time at GBWN.  A recent Times investigation highlights that over-pumping isn't just plaguing the aridifying western United States. East coast strongholds and Dust Bowl epicenters of the Midwest –– Kansas and Nebraska –– are all coming to grips with over-pumping. One of the latest Times' investigations zoomed in on Enoch, Utah. The small town of about 8,000 people sits about seven miles north of Cedar City. I have friends there. I drive through often.  
The town is seeing major subsidence caused by over-pumping of the aquifer. The Cedar Valley Aquifer, atop Enoch sits, is grossly over-pumped.  
The municipal provider in Enoch is the Central Iron County Water Conservancy District, our foe that wants to import billions of gallons of groundwater annually from Pine and Wah Wah Valleys – the headwaters of the Great Salt Lake Desert Interbasin Flow System.  
The photos of the Enoch mayor standing amid a cracked, subsiding landscape in the Cedar Valley are jarring. But what's worse:  CICIWCD and its members are willing to drain other basins rather than curtail pumping right away. There is a 70-year groundwater management plan set to start in 2035 in the Cedar Valley. That sluggish approach exemplifies CICIWCD: Always one step behind. 
Indeed, the Times' piece didn't note the importation schemes that accompany the heart-felt stories about subsidence.  
I wonder why the folks in Enoch didn't reveal that their solution to groundwater depletion was depleting somewhere else.  
GBWN FEATURED IN LA TIMES 
Great Basin Water Network was featured in last week's LA Times story on the Imperial Valley farmers, who have joined the chorus of environmental groups calling for a One-Dam Solution on the Colorado River. 
ICYMI, farmers have urged the Bureau of Reclamation to seriously consider "decommission[ing] Glen Canyon Dam or [operating] the reservoir without power production as a primary goal," in a letter submitted to the agency as part of the scoping process for the post-2026 Operational Guidelines and Strategies for Lakes Powell and Mead.  
Our Executive Director, Kyle Roerink was quoted underscoring the centrality of the farmers' perspective: 
"Farmers understand the future probably better than many others right now, all across the West. And they know that issues of scarcity are only going to become more incendiary….I think they know that we're not going to have the water to fill two giant storage pools anymore." 
Their primary concern, as Kyle points out, is that propping up water levels at Lake Powell creates more system losses, jeopardizes ecosystem health at the Grand Canyon, and raises questions about long-term delivery obligations to Lower Basin entities –– from SNWA to IID. Glen Canyon Dam is an outdated and inefficient piece of infrastructure. It's time we start adapting to the drier realities and making up for the mistakes of the past.  
Check out GBWN's own scoping comments submitted to the Bureau here.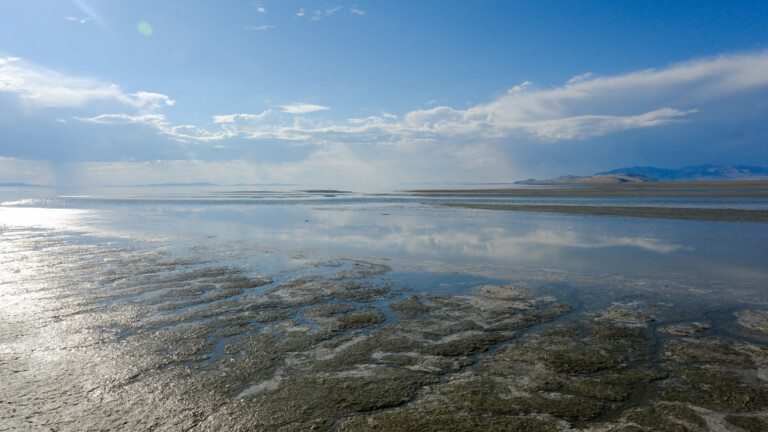 ENVIRONMENTAL GROUPS SUE THE STATE OF UTAH, INVOKING PUBLIC TRUST DOCTRINE ON GSL
Environmental groups, led by Earth Justice, sued the State of Utah last week, alleging officials failed to meet the urgency of the Great Salt Lake crisis with appropriate action. As the lake level continues to decline at the hands of the State, the plaintiffs argue, "the lakebed is being converted from a public trust resource into a public health threat." 
The crux of the complaint is that the state has inherent Public Trust obligations to maintain the ecological, scenic, recreational, public health and economic values tied to normal lake levels.  
What would victory look like for the plaintiffs: If the courts affirm that, outside of statute and the state constitution, state regulators have the legal ability to curtail use under the Public Trust Doctrine, which exists outside of statutory and constitutional frameworks as a common law, baseline principle inherent in our system of governance. 
Great Salt Lake needs an additional 1.5 maf annually to return to a healthy elevation of 4198 ft. Upstream diversions currently account for 2.1 maf per year: 74% is diverted for agricultural uses, 5-10% is used indirectly for storage and transport losses, 9% for industrial mineral extraction, and 9% for municipal use (90% of which is outdoor use.) 
Plaintiffs' request for relief is twofold: They ask the court to declare a breach of the state's trust duty to ensure sufficient flows to maintain a 4198 ft elevation, and, to direct the state to halt further decline in elevation within 2 years – modifying upstream diversions as necessary. 
Despite unprecedented attention on Great Salt Lake and the wave of lake-facing policy in the last two years, we've yet to see the political will to move from persuasive, voluntary conservation measures to curtailment. During the 2023 legislative session, S.C.R 6, a nonbinding resolution introduced by Senator Nate Blouin to set a target 4198 ft elevation failed to make it out of committee. 
Politicians have shown that they are unable to take necessary action. Now it's time to see what the courts think.